Who We Are
Inclusion Designlab is Inclusion Melbourne's engine room for research, innovation, communications and policy.
Our vision is to bring together people with a disability, community organisations, and the world's leading disability researchers to develop cutting-edge models of practice, choice and citizenship that shatter glass ceilings and promote a more inclusive Australia.
We do this by developing, trialling, and implementing new systems of support and communicating our insights through a range of publications and media. We are also significant contributors to public policy and government inquiries.
The products and services created by Inclusion Designlab contribute to the continuous development of the disability sector through evidence based practice, accessible materials, and vital training for families and collegiate organisations.
Our Challenge
Inclusion is about more than just getting out and about in the local community and being welcomed. It also means having the ability to live the life of choice and personal control that all humans are entitled to. Consistently, research highlights people with a disability prefer to live in their own homes with housemates, schedules, and relationships that they have chosen – just as anyone else would. Not only is this what people want, but it is also what works. Research also indicates that outcomes related to self-care, communication, and behaviours of concern are all improved when people have control over their daily lives and can build relationships of their choosing.
This concept of inclusion may seem simple, but the understanding of how to support people with limited means and a range of needs to live this kind of life is more complicated.
Strengthening the community sector
The introduction of the National Disability Insurance Scheme offers a once in a generation opportunity to realise an inclusive Australia for the one in five Australians with a disability.
Now is the time to safeguard and future-proof non-profit organisations so that they can be resilient, capable and sufficiently resourced to create sustainable models of support.
This is the challenge that Inclusion Designlab is embracing. Our aim is to create and harness social capital while promoting a more professional and skilled community sector, opening people's eyes to the potential that inclusion brings.
Inclusion Designlab works alongside people with intellectual disability and in strategic partnerships with researchers, design thinkers, the not for profit sector and the wider community to research, demonstrate, innovate and inform.
We are incredibly excited to be part of what's to come.
About Inclusion Melbourne
---
Inclusion Melbourne is a community support organisation that has worked with people with an intellectual disability for more than 65 years.
Unlike other disability day services, Inclusion Melbourne is not centre-based and doesn't ask you to select activities from a list, follow a group schedule or stay in a centre. Instead, Inclusion Melbourne supports you to live a fulfilled life, to participate in activities based on your own needs, wants and interests, and to develop meaningful friendships within your local community. In other words, Inclusion Melbourne offers fully personalised support in the community.
Inclusion Melbourne's vision is to provide people with the opportunity to live in an inclusive community and to take their place in society as respected citizens.

Personalised Supports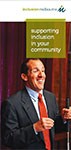 Volunteering with us
Volunteering at Inclusion Melbourne – download file here.
Privacy and Feedback
Inclusion Training is a registered training organisation (RTO) that delivers accredited and pre-accredited training in literacy, numeracy and work readiness to people with intellectual disability.
Come and learn with us
Embarking on a life of your own is a big step. Inclusion Training's qualified trainers and team of dedicated Volunteer Tutors can help you understand your gifts, grow your skills, and build your unique strengths. They can also help you develop a learning pathway that leads to opportunities for community-based learning and work experience.
Visit us online
www.inclusiontraining.org.au