Working Together Well
---
A guide to building a stronger working relationship
Inclusion Melbourne partnered with researchers at Southern Cross University, the University of New South Wales, and RMIT University to create Working Together Well. This project drew from the priorities determined by people with disability, and support workers, following a research project about relationships and recognition in paid support relationships.
This guide provides young people with disability and their support worker with the opportunity to have their say about what is important in their life. The activities in this guide can be completed together, and aim to help two people get to know each other when they start working together. This guide can be used at any point in a relationship to guide a pair in working together in a way that is mutually beneficial to both people.
The publication is also available through the National Disability Services Innovative Workforce Fund
NDIS Readiness for Disability Support Organisations
---
3 Volumes
Inclusion Melbourne partnered with some of the world's most respected disability thought leaders in 2014 to present three conferences for NDIS readiness. Inclusion Designlab has turned this wealth of knowledge and advice into publications and videos centred on Practice leadership, Quality, Financial readiness, NDIS Readiness for Rural and Regional support organisations, and a guide to what consumers will be looking for in the new NDIS marketplace.
Globally, very few oral health resources exist for young people with intellectual disability. Your Dental Health: A Guide for People with a Disability, Their Family Carers, Friends and Advocates raises the bar in this domain. It is a guide written for Australians with intellectual disability that outlines how to look after your teeth and gums. It demystifies your options in seeking dental care (such as public vs private) and what to expect during a visit to the dentist.
This publication has been proudly endorsed by the Australian Dental Association.
Circles of Support: a guide for family carers, friends and advocates
---
People with an intellectual disability often have more paid supports than natural supports that make up their network of relationships. Connecting people with informal networks and encouraging reciprocal relationships is an important aspect to improve a person's quality of life, increase community inclusion and builds a structure for exploring choices and supporting decision making.
The Circle of Support guide assists family carers, friends and advocates who are wanting to establish a Circle of Support for a person with a disability. The guide is a step-by-step process and provides templates, tips and other information to build a valuable Circle of Support for a person with an intellectual disability.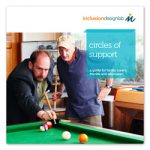 Seven Approaches to connect with your community
---
People with an intellectual disability are surrounded by opportunities to connect with their community based on their strengths, interests, skills and current community involvement. Connecting people with the local community and encouraging reciprocal relationships that build trust are valuable ways to support inclusion.
The seven approaches workbook assists family carers, friends and advocates to find opportunities for a person with a disability to connect with their community. The best results are achieved when a group of people who know the person well each use a copy of it. It can also be filled out collaboratively in a group meeting or distributed to people in the person's networks.
Choice plays a central role in ensuring the success of the National Disability Insurance Scheme. While choice is often spoken about, as a practical task it is far from easy to implement. Developed in partnership with RMIT University, this toolkit consists of five guides that support people with a disability, families and support providers to understand and explore the principles of choice. It also provides examples, worksheets and other practical tools to support people to develop their choice making abilities.
Individualised Supports: Pricing and costing strategies for disability support providers
---
The National Disability Insurance Scheme will establish a new relationship between people with a disability and disability support providers. More than ever before, organisations will need to function as enterprises that offer value for money, set clear boundaries around their core business, and engage in sound strategic planning. This is a significant challenge for the many charitable organisations that form the current support system. This guide and tools supports organisations to understand the role of accurate costing and pricing, which is essential in ensuring ongoing business viability.
To download the Costing and Pricing Tools click here
Include me! Creating volunteer opportunities for people with a disability
---
Supporting inclusive communities benefits everyone. This guide was developed for distribution to local community groups and businesses and introduces inclusive volunteering as an effective method of boosting operations and prominence. It provides tips for creating opportunities for people with a disability in their local communities.